HeroPress: Childhood to WordPress

આ નિબંધ ગુજરાતીમાં પણ ઉપલબ્ધ છે
First of all, I want to say thank you to HeroPress for reaching out and letting so many people share their stories. I am a follower of HeroPress and read new stories every week! A few months ago my cousin Chetan Prajapati published a WordPress story, and I was inspired by him to share my own and how it has changed my way of working.
I love WordPress because since childhood I am playing with WordPress. I was studying for a Diploma in Computer Engineering. For my last year I have an Industrial project and I was very confused about to how to create this project and how to choose the best framework and language so that after my college I can get a good job in IT.
At one point my cousin was working on WordPress so I am discuss with the my last year project then he says "You choose WordPress!" and he created an eCommerce project within 10 minutes and I was very shocked. I can't believe he created within 10 minutes a finished Project. He says "I have installed WooCommerce and a simple theme". Then I Love WordPress and I do more and more research in WordPress and develop knowledge in WordPress.
After completing my Diploma I got a job in a small company in Ahmedabad and am working as Junior WordPress Developer. Also I am attending Local Meetups and WordCamps.
Now I also teach a class every weekend on how to make a career in WordPress.
It was my first time speaking in Ahmedabad WooCommerce Local Meetup in a session on how to create and setup eCommerce with in 10 minutes.
Speaking at the Ahmedabad WooCommerce Local Meetup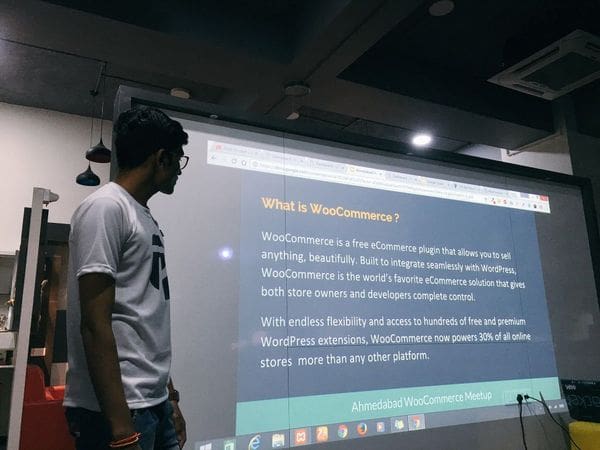 ---
My First WordCamp – WordCamp Udaipur 2017
---
My Second WordCamp – WordCamp Mumbai 2017
---
My Third WordCamp – WordCamp Nagpur
---
After much hardwork to achieve this event, it's WordCamp Ahmedabad 2017.
My Fourth WordCamp – WordCamp Ahmedabad 2017 as Volunteer
---
My Fifth WordCamp – WordCamp Mumbai 2018 ( Second time )
---
I am a WordCamp Lover. WordCamp is a way to meet new people, learn and share knowledge!
Finally my dreams are coming true at WordCamp Europe 2018. Finally I am volunteer in WordCamp Europe 2018.
---
હું WordPress પ્રેમી છું
સૌ પ્રથમ, હું તમને કહેવા માગું છું કે હિરોપર્સને પહોંચવા માટે અને ઘણા લોકોને તેમના વાર્તાઓ શેર કરવા માટે આભાર. હું હિરોપ્રેસનો અનુયાયી છું અને દર અઠવાડિયે નવી કથાઓ વાંચી સંભળાવું છું! થોડા મહિના પહેલાં મારા પિતરાઇ ભાઇ ચેતન પ્રજાપતિએ એક વાર્તાની વાર્તા લખી હતી, અને મારા દ્વારા તેનો પોતાનો ભાગ લેવા માટે પ્રેરણા મળી હતી અને તે કેવી રીતે કામ કરવાની રીત બદલ્યો છે.
હું WordPress સાથે રમવા માટે chilhood છું beacuse લવ. હું છેલ્લા વર્ષમાં ડિપ્લોમા ઇન કમ્પ્યુટર એન્જીનિયરિંગમાં અભ્યાસ કરતો હતો, મારી પાસે ઔદ્યોગિક પ્રોજેક્ટ છે, તેથી હું પ્રોજેક્ટમાં કેવી રીતે સર્જન કરું છું અને કેવી રીતે શ્રેષ્ઠ માળખા અને ભાષા પસંદ કરવી તે મારા કૉલેજ પછીથી હું આઇટીમાં શ્રેષ્ઠ કામ મેળવી શકું છું તે અંગે ભ્રમિત છું.
એક મારા પિતરાઈ ભાઈ WordPress પર કામ કરી રહ્યા છે, તેથી હું મારા છેલ્લા વર્ષ પ્રોજેક્ટ અંગે ચર્ચા કરી રહ્યો છું પછી તે કહે છે કે તમે WordPress પસંદ કરો છો અને તે 10 મિનિટમાં ઈકોમર્સ પ્રોજેક્ટ બનાવશે અને હું ખૂબ જ વ્યસ્ત છું. હું તે સાથે તૈયાર કરી શકતો નથી, તે 10 મિનિટમાં પૂર્ણ થયેલ પ્રોજેક્ટમાં તે કહે છે કે મેં WooCommerce અને સરળ થીમ ઇન્સ્ટોલ કરી છે. પછી હું WordPress લવ અને હું WordPress માં વધુ અને વધુ સંશોધન છું અને WordPress માં જ્ઞાન વિકાસ.
દરેક અઠવાડિયે મારા સત્ર પર WordPress સાથે કારકિર્દી કેવી રીતે શરૂ કરવી તે મારા સત્ર પર.
મારી ડિપ્લોમા પૂરો કર્યા પછી મને અમદાવાદમાં નાની કંપનીમાં નોકરી મળી અને જુનિયર વર્ડપ્રેસ ડેવલપર તરીકે કામ કર્યું. પછી હું સ્થાનિક મીટઅપ અને વર્ડકેમ્પમાં હાજરી કરું છું. સત્રમાં અમદાવાદ વુકોમર્સ સ્થાનિક મેટઅપમાં મારો પ્રથમ વાર સ્પીકર હતો અને 10 મિનિટમાં ઈકોમર્સ કેવી રીતે બનાવવું અને કેવી રીતે સેટઅપ કરવું તે વિશે.
---
મારો પ્રથમ વર્ડકેમ્પ – વર્ડકૅમ્પ ઉદયપુર 2017
---
મારી સેકન્ડ વર્ડકેમ્પ – વર્ડકેમ્પ મુંબઇ 2017
---
મારો ત્રીજો વર્ડકેમ્પ – વર્ડકેપ નાગપુર
---
આ ઇવેન્ટને તેના વર્ડકેમ્પ અમદાવાદ 2017 માં પહોંચાડવા માટે વધુ અને વધુ સખત મહેનત કર્યા પછી
મારી ફોર્થ વર્ડકેમ્પ – વર્ડકેમ્પ અમદાવાદ 2017 સ્વયંસેવક તરીકે
---
મારો પાંચમા વર્ડકેમ્પ – વર્ડકામ મુંબઇ 2018 (સેકન્ડ ટાઇમ)
---
હું એક WordCamp પ્રેમી છું વર્ડકેમ્પ નવા લોકોને મળે, જ્ઞાન અને જ્ઞાન વહેંચવાનો એક માર્ગ છે!
છેલ્લે WordCamp યુરોપ 2018 માં સાચા મારા સપના. છેલ્લે હું WordCamp યુરોપ 2018 માં સ્વયંસેવક છું.
"કોડ કવિતા છે"
The post Childhood to WordPress appeared first on HeroPress.

Source: WordPress